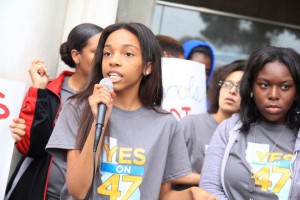 Help Your Community Benefit from Proposition 47!
1) Organize a Record Change Event in Your Community
Record Change events – no matter how big or small – are an effective way to help individuals rebuild their lives after a criminal conviction and ensure all eligible Californians can access the benefits from Proposition 47.
Check out our "How to Organize A Record Change Toolkit" which provides the necessary tools to help you or your organization organize a record change clinic including templates, resources, and information on Proposition 47 and other Clean Slate Remedies.
For a list of upcoming Record Change events, click here.
For a list of Proposition 47 Resources, click here.

2) Bring New Investments in your Community
One of Proposition 47's most promising opportunities is the reallocation of corrections funding to crime prevention and treatment. The law allocates savings in state prison costs to mental health, drug treatment programs, education, and trauma recovery services.
Advocacy on the local and state level is needed to ensure that savings in the state or county justice systems are reallocated to community-based treatment and prevention. Sign up to get updates about Proposition 47 or contact us at myprop47@safeandjust.org.

3) Organize a Training in Your Community
Californians for Safety and Justice and other community partners are conducting trainings across the state about Proposition 47 implementation. Our Resources Section provides information and tools needed to educate your community about Proposition 47. For more information about having a training in your area, contact us at myprop47@safeandjust.org.
4) Join the Conversation Using #Prop47 and #Prop47Works
Follow us on Twitter and like us on Facebook to get the latest news and updates about Proposition 47!
To request more information on having a training in your area, contact us at myprop47@safeandjust.org.