Rochelle's Story: "Prop 47 is hope"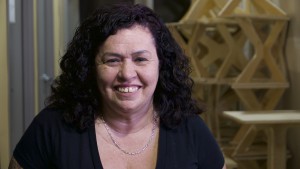 Rochelle Solombrino was 16 when she got her first DUI, the same age as her first suicide attempt. A year later, she nearly died from alcohol poisoning. When she was 24, she nearly died of a heroin overdose.
"I was on a suicide mission," Rochelle, now 48, said ruefully. "It wasn't normal to think like that, but, back then, it was hard to understand what 'normal' was."
Rochelle grew up in a Mexican family where drinking was not uncommon. Her parents were divorced and her father was a professional musician whose world she was eager to be part of. She had her first drink at age 6. She had an uncle who smoked marijuana with her. Her mother remarried and her stepfather sexually molested her.
Another source of anguish was her sexual orientation: she was gay, but because her family was conservative – including an uncle who was a pastor – she felt she could not be true to herself. By age 14, she had tried marijuana, cocaine, PCP, and acid. Alcohol and drugs were a way to numb her pain.
She studied briefly at Santa Monica College before falling in with an older crowd. Then began a decades-long spiral that led to her living in Skid Row, addicted to crack cocaine. She was arrested dozens of times: petty theft, drug possession, disorderly conduct and more.
Her last arrest was for leading a cop on a high-speed chase and resisting arrest. Rochelle didn't want to give up the case of beer she had just purchased.
Her 18-month prison term was marked by fear. It didn't make sense to her that women like her convicted for nonviolent offenses were doing time in the same place as others serving 25 to life. Even worse, Rochelle was helpless to intervene when four beloved nieces were taken into foster care because her sister developed drug problems too.
When she was released, she was assigned to a 12-step program with Fred Brown Recovery Services in San Pedro, where she still lives. The experience transformed her. Rochelle started working for the nonprofit, first as a sober living manager for one of its residential homes, then as office manager.
Today she is the Operations Coordinator for the entire organization. Rochelle, who has been clean and sober for six years, is saving to buy her first home. Her nieces, now ages 13 to 22, are back in her life, and have told her how proud they are of her. Three years ago she achieved a major milestone when she got her driver's license back. She bought a used jeep – her dream car.
But her past became an issue earlier this year when the nonprofit she works for applied for a county contract. To qualify, the entire staff needed to be cleared of felony convictions. The situation remained tenuous and stressful.
Then Rochelle attended a job fair in the spring, where she encountered Prop. 47 advocates. She learned that four of her felonies could be reclassified misdemeanors under the new law – for free.
"I was feeling completely defeated before Prop. 47," she said. "Although I've done all this positive stuff in my life, the county can take my job away even though I've already paid my debt to society."
Fred Brown Recovery Services had taken a chance on her, but would any other employer hire her? Years earlier she had applied for Section 8 housing and been turned down because of her record. "That was another defeat. That was another reason to get drunk."
But her experience at the Prop. 47 clinic was so easy that she was inspired to bring a dozen of her coworkers to another clinic some months later. She is now taking a training course so she can serve as a volunteer, helping others like her fill out resentencing paperwork.
"I want to give back," Rochelle said simply. "I couldn't change myself, I needed help. And your record won't change itself. You have to take action. The positive change that [Prop. 47] can bring needs to be shouted from the rooftops. It really does give hope. Prop. 47 allows people to be defined by what they're doing now, not what they were doing then."