Joseph Barela's Story: "Know that hope is out there"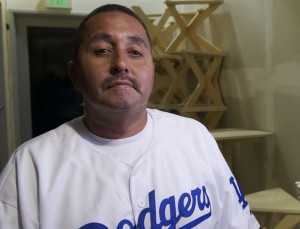 Joseph Barela used to think that as long as he was working and had a new pair of Nikes on his feet that was proof he wasn't a drug addict. But one day he found himself high on cocaine in the company of his 10-year-old daughter. "I was looking at my daughter and felt so bad, my throat hurt," he recalled.
He soon checked into rehab. "People were telling me, 'You're a better person than this. What happened to the old Joseph?' You get tired of being tired."
Joseph, 50, grew up in East LA. Drugs were ever-present; even his parents were addicts. "The people you associate with are a big factor," he reflected. "If you hang around long enough in a barbershop, you're gonna to get a haircut."
But he's not one to blame anyone for the direction his life took. "For me, it was hard to hard to deal with things sober," he said. "I could escape from my problems when I was high."
His problems included his own criminal acts and convictions: breaking and entering a department store in 1989, stealing tires in 1993, receiving stolen property and resisting arrest in 1999. He served eight years in state prison.
Once out, Joseph found that his record made it difficult to find work. Sometimes he would leave the space on job applications about past felonies blank in order to explain himself in the interview. But the background checks caught up to him. He grew frustrated at being told "We'll call you," when he knew his phone wouldn't ring.
"I wish I didn't have this hanging over my head," said Joseph. "When people see a felony, it's a big red flag."
He got his chance when he reluctantly agreed to go with coworkers to a Prop. 47 legal clinic, hosted by Californians for Safety and Justice, on May 2 in Culver City. He thought "it was going to be a waste of my time," but after meeting with a free clinic attorney, he learned that two, possibly three, of his nonviolent felonies could be reduced to misdemeanors.
He left with a smile on his face – and a commitment to tell other people that Prop. 47 is working and that "hope is out there."
"A lot of people do not believe it. They think they're going to be turned away because of their crime. But if you fall into the [right] category, it's going to work. You have nothing to lose and everything to gain. No one ever thought the day would come. It's history in the making. It's a big step forward."
Joseph is hopeful that the new law will help put his past behind him. He's been off parole for seven years and, since August, working at Fred Brown Recovery Services in San Pedro, doing housekeeping and janitorial work. He hopes to pursue a career as a therapist.
"I tell people that I'm not where I want to be, be but I'm not where I was. I'm working day by day."